Overwatch League Spring Stage 2023
The 2023 Overwatch League opening weekend matches take place April 27-30, 2023, with 20 matches across four days of competition. Other than that, Overwatch League Tokens are back! Earn Overwatch League Tokens by watching live Overwatch League matches on available platforms.
For the Overwatch League 2023 season, you need to watch and earn via YouTube gaming by linking your YouTube account with your Battle.net account.
The viewing time is tracked continuously, so if you watch 30 minutes in one session and return later for another 30 minutes of viewing, you'll get credit for that total accumulated hour. Viewing time can only be accumulated during live matches.
To redeem League Tokens for in-game items, viewers must have a valid Overwatch game license. Xbox One, PlayStation4, or Nintendo Switch players must have their Xbox Live, PlayStation Network, or Nintendo account linked to their Battle.net account.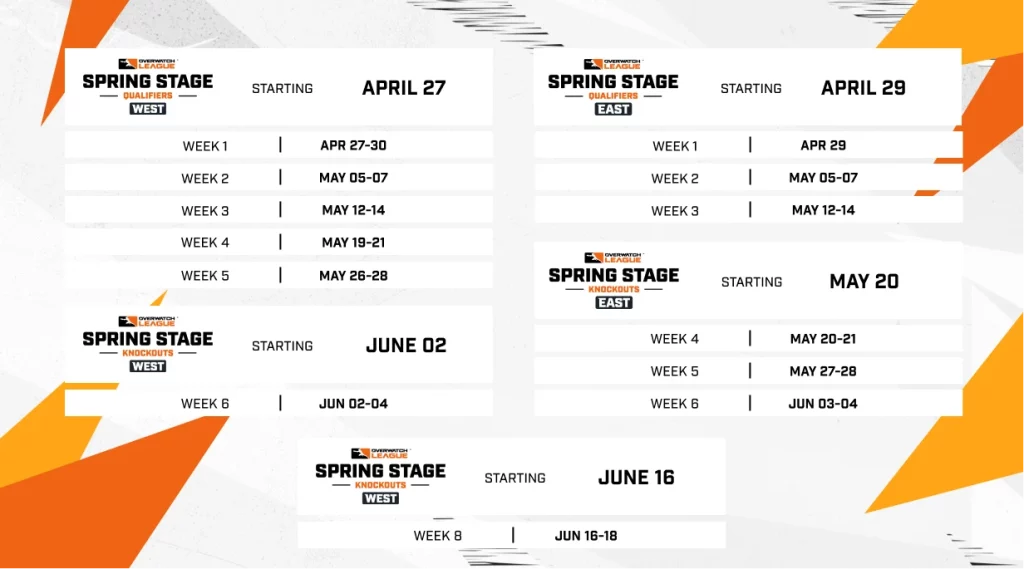 Matches are scheduled to begin at 12 p.m. PT/4 a.m. Korea Standard Time. Specific start times are subject to change. You can see the full schedule for Overwatch League 2023.
Overwatch League Rewards for Opening Weekend 2023
In addition to tokens, watch Opening Weekend during April 27-30, 2023 you can earn additional Overwatch League rewards:
The Contenders and Champions spray
The East to West name card
You need to watch for 1 accumulate hour on eligible platforms to earn The East to West name card.
Overwatch League Rewards for Spring Stage 2023
During the Spring Stage, Overwatch League home and away skins for Genji and Orisa will be earnable by watching live Overwatch League matches in both the East and West regions during April – Junr, 2023.
Please note that regional and other eligibility restrictions apply. Incentives must be redeemed in-game by 12/31/2023.
References: 2023 VIEWERSHIP REWARDS, How to Get League Tokens